Weeran On Tour In USA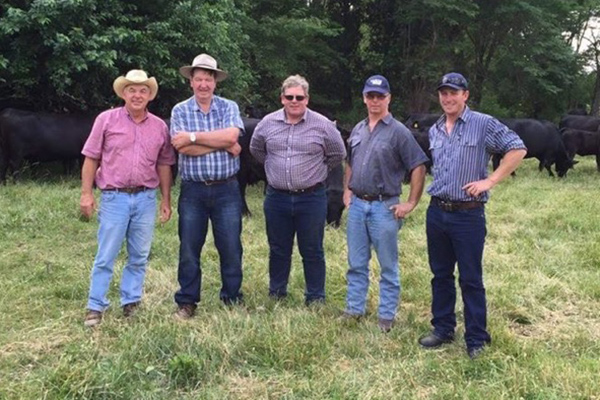 Assistant Manager, Tim Wright, has just returned from an extensive and invigorating trip around the heartlands of the American Cattle Industry with cattle consultant Dick Whale.
Starting at the Beef Improvement Federation Annual Meeting and Research Symposium at Kansas State University. This was followed up by 9,500 kms, 60  plus herd visits, and hundreds of progeny of key sires we have been using, and will use in the future.
The trip has reinforced previous genetic decisions and opened the door for some new product, and stimulated discussion on some new management techniques.
The Weeran Team are looking forward to adopting a number of new practices and building on our strong genetic base.
Weeran Angus will be offering an outstanding run of bulls at the annual Spring Bull sale on Tuesday 13th September at 1pm.  Weeran will be incorporating for the first time, a number of excellent yearlings.  These will be alongside our spring 2014 two year old drop bulls.
The sire lines that will impress include Irelands Fletcher, Carabar Docklands, Kenny's Creek Regent, Werner Westward, Barwidgee Jay W, Rennylea Edmund, and home bred sires Weeran Gerard, and Weeran Hooper.
The Weeran Gerard progeny were very well accepted by the buying crowd, in the autumn sale this year, with 11 bulls offered and all selling, including the top price bull sold to Bob and Barbara Burgin for $9,500.
Ireland's Fletcher F1 is an outcross sire who brought calving ease and exceptional growth curve to our herd.  "He has worked well with big growth spread and useful IMF", said Alec Moore.  Barwidgee Jay W has continued to be in demand with his exceptional growth curve with low birthweight and high milk.
Rennylea Edmund has 9 sons in the sale and has been selected by Weeran as an outlier for IMF and positive fat.  He also brings calving ease, and works best over sound, high growth rate cows.
All the bulls will be available for inspection at our field day on Wednesday 7th September at 10am.  Weeran Angus and national seed business, Upper Murray Seeds are combining field days to showcase the Upper Murray Seeds demonstration site, alongside Weeran's field day for inspections of sale bulls.
All bulls come with our recommendation and our guarantee of satisfaction.  They are all semen tested, and vaccinated.  The Weeran Team extend a warm welcome for you to attend the field day and bull sale.
Further information: Jo Moore 0429 787258
July 2016