2013 Sale Archive
AN ANGUS ICON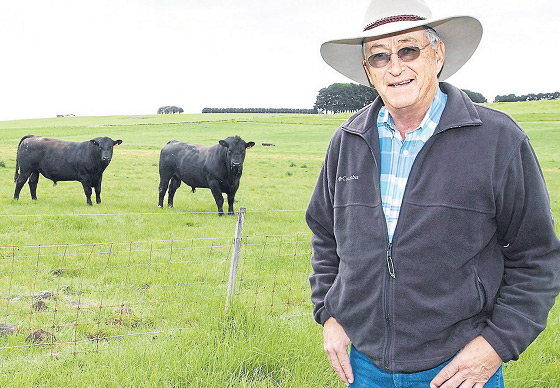 Revered breeder on tour of studs
By STEVE HYNES
AMERICAN beef breeders Bill and Barbara Rishel have been seeing a lot of familiar-looking Angus cattle during their tour of Australia. And there's a good reason many of the cattle they see are descendants of bulls they bred at their Nebraska property.
The Rishels operate a relatively small scale seedstock enterprise with a herd of 170 breeding cows. But the influence of their bloodlines has been far greater than the size of their enterprise would suggest. Leading breeder, Alex Moore, of Weeran Angus, Byaduk, said the Rishels had probably had more impact on the development of the Angus breed than any other seedstock producers.
Look through any stud sale catalogue and you are sure to find names of sires from their property at North Platte. New Design 036 was the bull that really got them noticed. Born in 1990, his genetics have had a major influence on the breed around the world. Many other top sires have followed: New Frontier 095, Ambush 28, New Day 454 and Future Direction 4268 to name just a few. The Rishels have been visiting leading Australian beef producers, starting in southern Queensland and working their way to Victoria.
They have been accompanied by Wangaratta breeder and Independent Breeding and Marketing Service agent Dick Whale. The Rishels began breeding with just a handful of cattle in 1966, gradually improving the size and quality of their herd. "For a long time I was trying to breed that next great sire," Mr Rishel said. "Then I realised that was the wrong approach. What I should have been doing was reducing the scrap pile minimising the number of animals that didn't make the grade.
click here to view Full Article


Select to enlarge