WEERAN BREEDING PHILOSOPHY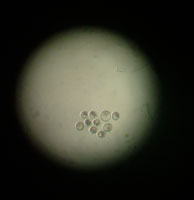 Designing genetics has become a very exacting science, and with 75% of all calves born originating from a planned ai mating, the fine tuning of Weeran's production efficiency involves early ultrasounding of pregnancies to allow greater grazing and rejoining efficiency in the subsequent year. In this challenging production environment, Weeran Angus is meeting the challenges with a highly productive system and service.
Alec fastidiously collects production data and technical information on the entire Weeran herd. Every calf is weighed at birth and recorded. All bulls have received at least 6 weighing's during their lifetime at Weeran, and have been measured for all useful production traits – fat depth, eye muscle area, intramuscular fat and scrotal circumference. Therefore, with this in mind, the accuracies for Weeran EBV's are as good as you can get! All Weeran bulls are assessed on the GTS Type/Structure system by Dick Whale.
These assessments cover descriptive traits of stature, capacity, body length and doing ability, and all structural soundness traits.
Our cattle run with sheep and are stocked at well above district average stocking rates, with high production of a quality product per hectare our aim.
Weeran Bull Guarantee
The Guarantee will cover fertility of the bull and its ability to deliver viable semen to impregnate cows. The period of cover will be 12 months or a 9 week joining whichever comes first. The Guarantee will be in the form of a replacement bull and/or credit to the value of your purchase including GST, THE PROBLEM ANIMAL WILL BECOME THE PROPERTY OF WEERAN.
In the case of loss of use due to death or injury under the new owners management i.e. broken legs, shoulders etc a replacement will be supplied, if available, for the imminent joining if required, at no expense to the client except transport. The client may purchase the replacement loan bull at a later date if decided at the base breeding bull value set by Weeran at the time or return the bull to Weeran Angus ownership. For other injuries such as broken penis and prepuce injury they will be looked at in a case by case situation to attribute the level of compensation appropriate. If for example a bull has torn his sheath or broken penis on a fence a replacement loan bull can be called for. If the bull develops cork screw penis or a penal shunt in his first joining a full credit would be looked at as a fair outcome. It is always our desire for a client to receive some return for their investment so variations of the above are at our discretion.
To receive this level of cover Weeran Angus must be contacted within 7 days of injury and if animal is to be salvaged by slaughter speedy and humane action must be taken for the best interest of the animal. An approved vet must be called to evaluate and treat animal if required. The animal must be maintained at an acceptable level of health and nutrition at all times. Illness due to starvation and/or parasites will leave cover null in void. It is recommended that joining mobs do not exceed 50 females and that multiple mating of joining groups be avoided if possible.
IBMS Genetic Type Summary
All Weeran bulls have been assessed on the GTS Type/Structure system. All the bulls in the catalogue are considered acceptable for soundness and muscling. The GTS system has been broken up into two distinctive trait groups.
Descriptive Traits
Stature – Evaluation of bulls for frame size. A maturity pattern 25 is an average frame bull. This may be influenced by age of dam, particularly first calf heifers.
Capacity – Bull evaluation combines depth of fore rib along with spring of rib and width of chest floor, as well as depth of flank. Scores greater than 25 indicate larger capacity.
Body Length – Evaluation of body length from withers to pins. Scores greater than 25 indicate longer body length. Muscle – Scores higher than 25 indicate above average muscle.
Doing Ability – Ability to lay fat relative to their peers under common management system.
Muscle Score – Is the muscularity of the bull devoid of subcutaneous fat. Higher scores indicate animals with higher yield attributes.
Scores : 25 = C muscle
30 = C+
35 = B-
40 = B
45 = B+
Sheath – To maximize a bulls effective servicing of cows the sheath needs to be 'tight' and parallel with the underline. The navel must not be too expressive.
Scores: 5 = Excellent: very tight, parallel with underline, very little navel.
4 = Very Good: tight, almost parallel with underline, slight navel.
3 = Acceptable: not so tight, angle increasing, some navel.
2 = Undesirable: pendulous, increased angle, navel very evident.
1 = Very Undesirable: very pendulous, too much angle, too much navel.
Structural Soundness Traits
The system is aimed at being as simple as possible. All structural traits (front and rear feet, rear leg angle and pastern scores) are presented in the same format. A score of 5 is the optimum. Scores of 4 and 6 represent a slight variation from ideal.
These animals would be acceptable in most breeding programs. Scores of 3 and 7 have a larger variation from ideal, but would be acceptable in most commercial herds, but seedstock producers should assess these animals carefully. Scores of 2 or 8 are low scoring and should be carefully evaluated prior to purchasing.
Bulls scoring outside these scores should be considered culls and not catalogued for sale Structure scoring is only given to give potential purchasers a guide, it is not a guarantee of the lifetime structure soundness of an animal. Many thanks to Dick Whale for assessing all sale bulls. WEERAN GUARANTEES!
OVERALL GRADE – 7 excellent, 6 very good, 5 good, 4 average, 3 and below are not acceptable to be in sale.