Weeran genetics for calving ease and performance!
The 29th Autumn Weeran Angus Bull Sale had a tremendous atmosphere from Lot 1 right through to the end of the catalogue to complete the sale of 71 bulls sold from an offering of 72 for an average price of $7,155. There was great enthusiasm for the genetics on offer, across the entire catalogue.
The top price of the day of $12,500 was paid for Lot 8, VHWN102, Weeran Neutron by Ian and Hazel Sutherland of Coleraine. A magnificent Millah Murrah embryo by Ascot Hallmark with awesome power and phenotype, with Stud Sire potential. Descending from the tried and tested Rado family line at Millah Murrah, with Hallmark and Emperor, you have a truly exciting pedigree. Ascot Hallmark consistently throws incredibly long, lovely fine haired, easy fleshing progeny with exceptional performance over the scales. Weighing in at 914kg, the second heaviest bull on offer. An exciting young sire to watch.
Second top price of $12,000 was paid for three bulls. The first being Lot 26 VHWN361 Weeran Newton, an Ardcairnie F96 son with indexing in the top of the breed, a near perfect structure grading of 7 with plenty of length and stature. With Barwidgee Jay W on the maternal side, it's a powerful combination! Newton was purchased by Paul and Joe Lewis at Hawkesdale who have been purchasing bulls at Weeran Angus for 12 years.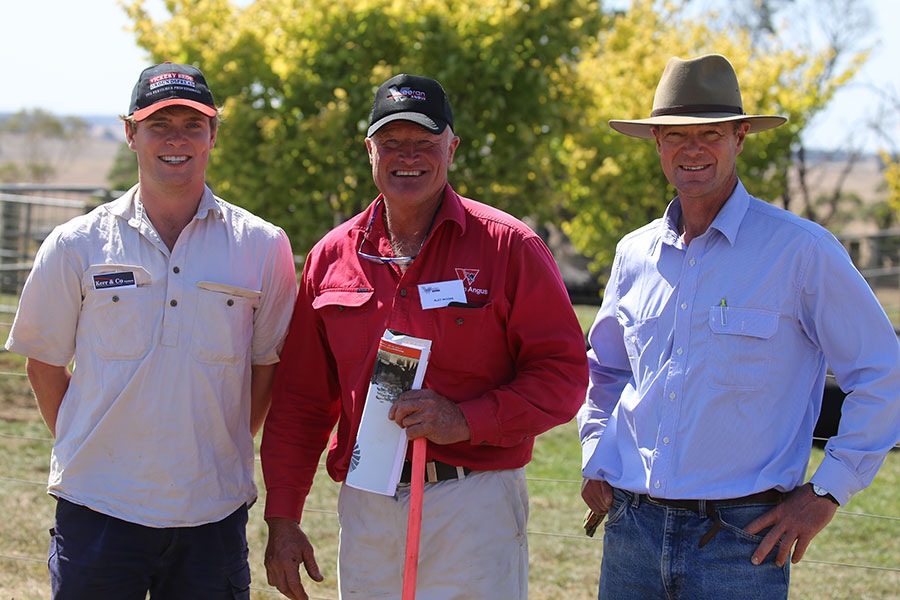 Equal second top price of $12,000 was paid twice by return buyers Nareen Station for two 18 month old bulls with Lot 29 Weeran Nathan VHWN137 and Lot 33 Weeran Nifty VHWN183. N137, out of a first calf heifer, backed by Weeran Jimmy and Barwidgee Jay-W, showcases an extremely well balanced calving ease, high growth and feed efficient sire. A birthweight of 2.5, 600 day weight of 135 and domestic index in the top 5% and heavy grass in the top 7% for the breed, with 200, 400 and 600 day weights all in the top 6% for the breed. N183 by Ardcairnie F96 was of very similar fashion with EBV's of 4.4 for birth to a 600 day weight of 126 kgs. Both bulls have calving ease and excellent growth.
21 two year old bulls averaged $7,667 and 50 eighteen month old bulls averaged $6,940. The top sire line in the sale was Ascot Hallmark with four sons selling to a top of $12,500 and average of $9,125. Millah Murrah Kingdom continues his success being the second top price sire in the Weeran sale with four sons selling for an average of $8,000. Ardcairnie F96 had 10 bulls in the sale and averaged $7,550 and Wattletop Franklin G188 had 8 sons sell for an average of $7,813. Homebred sire Weeran Hooper was right up there with an average of $7,042 across 12 bulls.
We were delighted with the number of new buyers joining the Weeran program, along with our very loyal return buyer clientele. When they keep coming back, you know you are doing the right job, said Weeran Principal Alec Moore. We welcomed Murndal at Tahara into the Weeran program purchasing 11 bulls, Winnidad Pastoral and Nareen Station purchased 5 bulls each and Highbury Trading purchased four bulls.
Principal Alec Moore said "quite a few sire lines really clicked, and I was very confident buyers would like what we put in front of them". "We have good diversity, with the autumn bulls and Millah Murrah embryos in our gene pool, and the type of cattle we are offering. Millah Murrah has a quality program recognised throughout Australia, and we are thrilled with how these genetics are working in the Weeran program. Calving Ease is something we have really worked on, along with lifting our indexing. We are very pleased with the path we are on and the huge improvements we have made across our herd. The many comments from the crowd on the temperament of the bulls is something Weeran are very proud of.
Kerr and co settled the sale and Brian Leslie was guest auctioneer.