Weeran Angus and Upper Murray Seeds Field Day
The Weeran Angus team are always working towards fine tuning and developing our program and breeding herd, with very exciting results over the last few years. With forty years breeding experience Alec Moore is excited to see the fantastic gains generated from the introduction of new exciting sires, working closely with Angus Australia on our genomic testing, and enjoying the rewards from our Donor program with wonderful new family lines now well established in the Weeran Herd.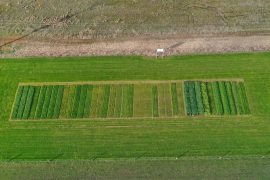 The Spring 2021 sale saw a complete clearance of 58 bulls in a very strong sale. This year at Weeran, we have maintained the excellent quality and increased numbers of high performance bulls with calving ease and carcase acumen, offering 70 bulls in our sale on Tuesday 6th September.
Our upcoming field day on Tuesday 30th August has an exciting new element, joining forces with Upper Murray Seeds showcasing their demonstration site, alongside Weeran's bull inspection day. Bulls can be inspected from 10am to 4pm, and UMS will have two talk and walk through sessions at 10.30am and 2.30pm. The UMS demonstration site showcases a range of highly productive grasses, clovers, lucernes and forage cereals. You can see firsthand how they work in Western Victorian climate conditions.
70 bulls will be on display, and it's an opportunity to take your time to thoroughly inspect our bull sale team without the added pressure of sale day. Our specially selected sires have produced great lines of cattle for your inspection which are bred to perform in the current marketplace. Sires include Lawsons Blue Bagger, Witherswood Bronc, Lawsons Momentous, Mogck Enrich, Beast Mode, Compass and Sydgen Enhance. Their brilliant temperament will be on display and something our team prides themselves in, having worked closely with the sale team over many months. The Weeran herd being so quiet, ensures easy to handle cattle. Calving Ease is paramount in this catalogue and we are thrilled a very high percentage of the catalogue are suitable for heifer joining's. Our carcase data keeps rising to new limits, at the same time, keeping growth, maternal traits and docility, at the forefront.
We welcome enquiries for both the Weeran Angus Bull Inspection Day and Upper Murray Seeds demo site open day. Please call Jo Moore on 0429 787258 for further information. The Weeran and UMS teams look forward to welcoming you.