RECORD BREAKING SALE FOR WEERAN ANGUS
The 28th Autumn Weeran Angus Bull Sale was buzzing From Lot 1 through to Lot 78. The crowd enthusiasm and atmosphere as the bulls came through the sale ring was exhilarating! The stands were packed with close to 60 registered buyers, with interest registered from all around Australia. The top price of $30,000 went to Lot 7, Weeran Moe VHWM96, after much spirited bidding. One bidder went to $20,000, with a new bidder then joining in on the phone, to push M96 to a final bid of $30,000, by Peter and Anna Delany of Murroa East, Hamilton, alongside agent Michael Kerr of Kerr and Co, Hamilton. Murroa East have been purchasing the best that we can produce for 22 years, and have never compromised on quality and performance. Peter and Anna are passionate about what they do, and have developed a name for some of the best commercial Angus cattle produced in the district, constantly topping Hamilton Sales.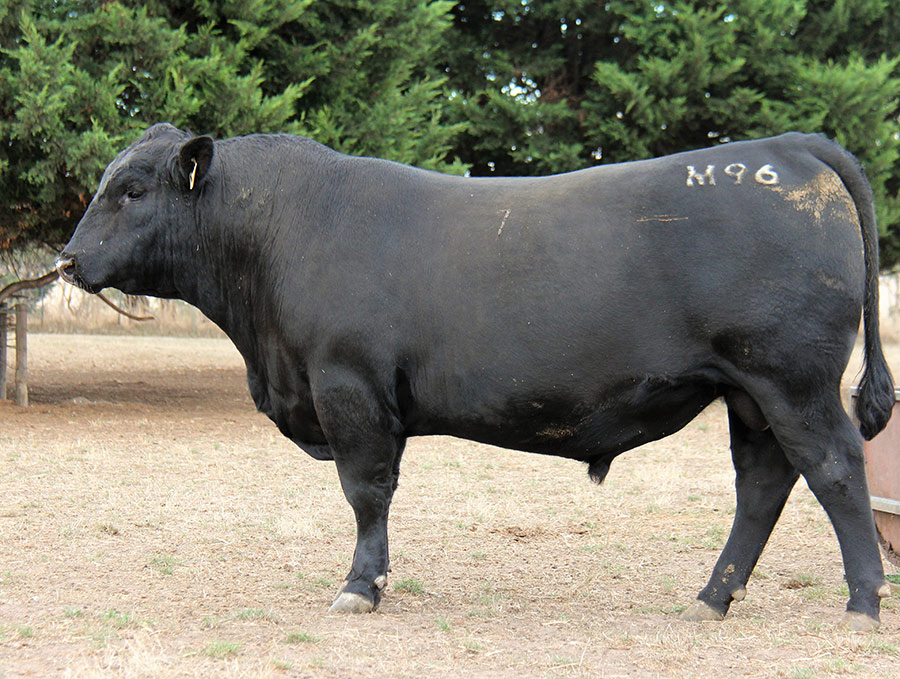 Weeran Moe is the first and only Ascot Hallmark son offered at Weeran. A big framed powerful, yet amply soft fleshing son, has all the trademarks of his sire. Very stylish calves with explosive growth on paper and in the paddock. Moe weighed in at 1002 kgs being the heaviest bull in the sale. His growth curve is excellent from 5.8 to 132 with positive fat. Equal second top price of $18,000 was achieved twice. Firstly to leading NSW Angus Stud, Clunie Range Angus, Wallangra, NSW for Lot 3, Weeran Mars VHWM106, purchased by Dick Whale of IBMS on their behalf. The first of the Millah Murrah embryo's to be offered for sale, being a son of Millah Murrah Jupiter NMMJ194 and out of one of Millah Murrah's best family lines, MM Flower J44. A great growth curve with birthweight ebv of 5.1 to 600 day growth of 118, with an EMA of 8.5 which confirms the volume of red meat this bull carries. Equal second top price was paid for Lot 5 Weeran Mackinnon VHWM66 by David Hurley and his daughter Diana, of Hurley Family Angus, Dargo. Alec Moore said this bull was used heavily at Weeran and his ability to regain body weight and his general phenotypic appearance was outstanding. His temperament is as good as you can possibly get.
16 Two year old Autumn Bulls topped at $30,000 and averaged $11,688 and 48 spring drop 18 month old bulls topped at $13,000 and averaged $6854, with an overall sale average of $8063. Great opportunity also for commercial breeders with 21 bulls selling for $5,000 or less which represents good buying for top quality animals. Another highlight for Weeran is to see the consistent performance by homebred sire Weeran Joel VHWJ13, with 18 sons selling to a top of $14,000 and averaging $8,055. Seven sons of Musgrave Big Sky averaged $7,714, 14 sons of Sydgen Black Pearl Averaged $7,071 and Barwidgee Jay W averaged $8,700 with five sons.
Volume buyers included long time repeat client Nareen Station with 6 bulls, and new client Garrengreena Pastoral, also with 6 bulls. The Lewis Family and Wanbannar Partnership also acquired 3 bulls each. We were thrilled to see 75% of the bulls remain in the local district, said Jo Moore.
Weeran Principal, Alec Moore said we have been breeding bulls for 35 years at an APR Commercial level, and thrilled to be now producing sought after HBR Registered genetics that is capturing the interest of the Stud Industry across Australia.
Brian Leslie was guest auctioneer, with Kerr and Co settling the sale.