Nick and Yvonne Falkenberg – Mepungah Pastoral Company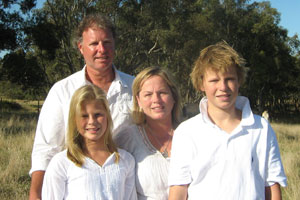 We have been purchasing Angus bulls from the Moore family at Weeran since 1996.
Our cattle herd currently consists of 460 Autumn and Spring calving cows with the steer portion of the herd grown out and sold anywhere from 480 – 650kg depending on seasonal and market conditions.
The Weeran bulls we purchase are used twice a year and service up to 100 cows each over a 12 month period.
We have found Weeran bulls to be structurally sound and correct as well as being trait leaders in all commercially relevant areas
Weeran sires produce calves which are consistent, can do it tough and will stack weight on quickly in the right conditions. We always advertise any cattle we sell as "Weeran blood" and I believe the stock command a premium by doing so.
The Weeran after sales service is fantastic and Alec and Jo are great people who are very passionate Angus cattle stud breeders and are leaders in their field.