Growth Curve Bending Bulls @ Weeran
January 2016
Weeran Angus is thrilled to be offering a larger number of autumn drop bulls, alongside their spring drop bulls for their 26th Annual Autumn Bull Sale to be held on 1st March, 2016 @ 1pm. 66 Bulls will go under the hammer. "A number of autumn drop bulls have been used in our own breeding program, and we are excited to be offering the entire drop of these top class bulls to our clients", said Weeran Principal Alec Moore.
The spring drop bulls are also looking extremely well. It has been an aim of ours to improve the growth curve performance of our cattle, and it is evident in this autumn sale catalogue, that we have achieved our aim. With a large number of bulls with excellent growth curves which are a fundamental production advantage to the producer. "We are very excited with the progress of our breeding program", said Alec.
Sire lines that will impress are Dunoon Gabba, Rennylea Edmund, Irelands Fletcher, Carabar Docklands, Barwidgee Jay-W, and home bred sires Weeran Gerard G159, and Weeran Gloucester G124.
Dunoon Gabba has 8 sons in the sale. He is the $60,000 private sale TeMania Bartel son who excels for IMF and positive Rib and Rump fat. He is moderate in frame size, easy doing, and has worked well in the Weeran herd.
Rennylea Edmund has 10 sons in the sale and has been selected by Weeran as an outlier for IMF and positive fat. He also brings calving ease, and works best over sound, high growth rate cows.
Alec Moore said "he was interested to sample Ireland's Fletcher F1 as an outcross sire who brought calving ease and exceptional growth curve to our herd. He has worked well with big growth spread and useful IMF."
Barwidgee Jay-W has been in demand at previous sales, and we are very pleased to be offering 6 sons in this sale. An exceptional growth curve with low birthweight, and high milk. Home bred sire, Weeran Gerard G159, topped the Weeran 2013 autumn sale selling to Naweena Investments in SA. We believed he would be an outlier for marbling from our scanning data. He has bred very well, producing super sound cattle which are thick meaty and easy doing, which is in demand by the industry.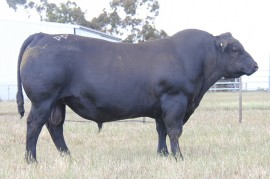 Weeran Angus will be open for the Beef Week Field Days on Wednesday 3rd February, with Weeran females on display, along with all sale bulls.
For further information, please call Alec and Jo Moore on 0438 787258 or Tim Wright on 0400 028606. 
We look forward to welcoming you to Weeran.