Calving Ease with Carcase Performance in demand at Weeran!
The 13th Weeran Spring Bull Sale was a great success with 51 bulls sold for a top of $9,000 which was achieved five times during the sale, and an average of $5971.  This was an increase of nearly $200 on the 2018 spring bull sale.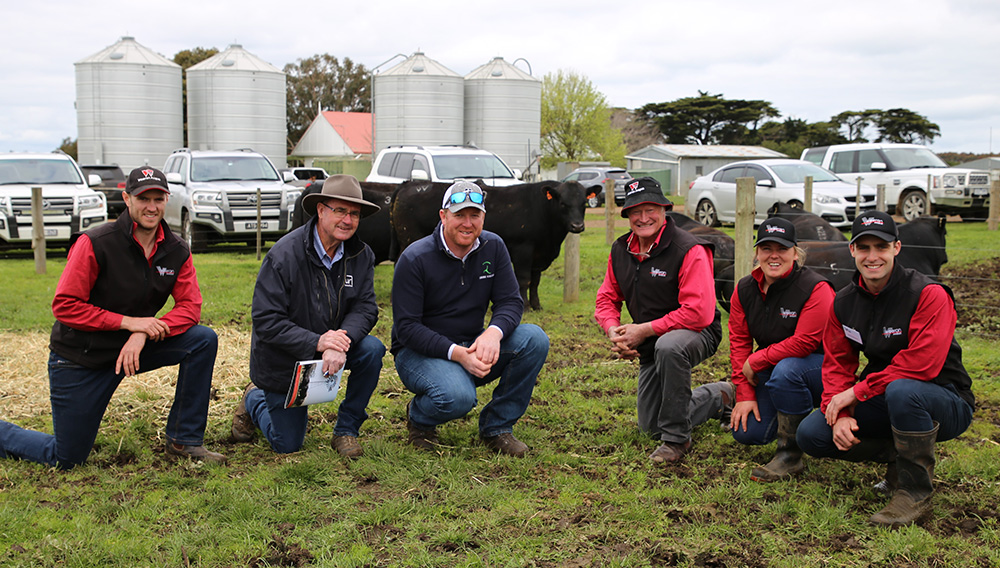 Homebred sire Weeran Hooper VHWH20 excelled with twelve sons sold for an average of $6917, and three of these sons equal topping the sale at $9,000.  Hooper is a very complete sire, who excels in calving ease, balanced growth and excellent carcase quality.  His temperament is exemplary, and he produces excellent types of cattle.  Other top performing sires in the spring drop bulls included Musgrave Big Sky with three sons averaging $6,667 and Wattletop Franklin G188 with nine sons averaging $6,111. In the young autumn drop bulls, Booneroo Gravity topped the reference sires with five sons selling for an average of $6,900, and two sons selling at $8,500.
The top price of $9,000 was achieved for Lots 8, 9, 10, 11 and 13. Lot 8 VHWN355 and Lot 9 VHWN174 were both purchased by longstanding repeat client Murroa East. Lot 8 being a Musgrave Big Sky son out of one of our matriarch HBR donor cows Weeran Pride D506, who has 22 registered progeny.  Lot 9 is by Wattletop Franklin with an enormous growth spread and good calving ease, teamed with excellent structure.  Lot 10 VHWN392 was the highest indexing bull offered in the sale and purchased by repeat client Nareen Station.  Lot 11 VHWN263 is another outstanding Weeran Hooper son, purchased by longstanding client Tooma Station.  He is a top all round bull for calving ease, growth curve and scrotal size. Lot 13 VHWN475 was purchased by new client South Boorook.  Another son of Weeran Hooper who impressed many astute breeders on the day for his softness and fleshing and excellent structure and phenotype.
Top price for the younger autumn drop bulls was $8,500 paid twice for two sons of Booneroo Gravity. VHWP64 has outstanding phenotype out of a foundation donor cow VHWZ345. P64 is an impressive young sire with a big future. VHWP100, another Gravity son, out of a Coolana Tearful dam purchased a number of years ago, and has worked well for us.
We welcomed many repeat clients back to Weeran Angus, with volume buyers including Nareen Station, Tooma Station, Alchorne Farms, A & B Gow and Malabar Farms.
Weeran Principal Alec Moore was delighted with the sale and believes good times aren't too far away for the beef industry as a whole with low supply becoming a reality in the near future.
Kerr and Co settled the sale and Brian Leslie was guest auctioneer.