Byaduk farmer Alec Moore looks at his options as dry bites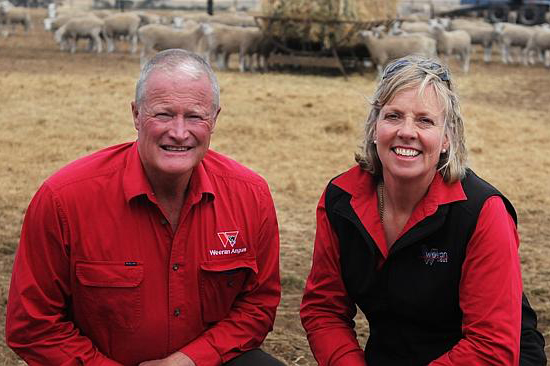 IN ALEC Moore's words, he has "played around" with feeding lambs before. And, he knows it is an enterprise that can burn fingers if it's not well planned.
But, after contemplating building a feedlot for several years, Alec and wife Jo, along with employees Tim Wright and Tom French, decided this was the season to jump in and establish a new lamb-feeding facility on their 1400ha property, Weerangourt, at Byaduk, south of Hamilton.
Tim visited and researched various facilities to help come up with the final set up.
With a bright outlook for prices early this year and a contract locked in for their maternal wether lambs at 520c/kg carcass weight, Alec said: "we know we won't go broke feeding them for that money".
Like many lamb producers in lower western Victoria, Alec and Jo faced an abrupt end to last year's growing season, leaving them with much less pasture than usual to finish prime lambs on. They were presented with two options: they could either sell lambs in light trade and store condition — and potentially make a very low profit — or feed lambs to market-ready weights in the paddock or a feedlot facility.
FEED FOR THOUGHT
MANY broadacre producers are reluctant to grain or pellet feed stock, as it quickly accelerates costs and risks, such as market slumps.
But the Moores did their homework and their new complex is far from a one-trick pony.
In fact, it will be used to hold or feed other stock, or as drought containment pens, to save pastures and soil from potential degradation in the long summer and autumn to come before the break arrives. Lot feeding lambs frees up pastures for other classes of stock, preventing a bad hangover from the dry season harming production for years to come.
Alec said the 2014 spring was "by far the worst" he has seen at Byaduk.
But the flock came into it with very high lambing percentages, meaning the Moores had more lambs than ever and not enough pasture to finish them on. The sheep enterprise is not the main game, anyway.