Angus Australia Benchmarking Trial Kicking Goals for Weeran Joel!
The Angus Society have just released their latest results for the Angus Australia Benchmarking Trial, Cohort 6, and Weeran Joel just keeps kicking goals. The objectives of the Trial is to generate progeny test data on todays up and coming bulls; to generate data for the validation and refinement of Angus Breedplan and to build a comprehensive phenotype and genotype database on Australian Angus for genomic technology validation, research and development.
Weeran Joel has come out in the top 10 in his Cohort for birthweight, 200 day, 400 day and 600 day weight, EMA and IMF. Currently, 367 progeny have been analysed from 10 herds, and with a Heavy Grain Index of $170 and an Angus Breeding Index of $150, teamed with an EMA of 7, Joel is in the top 1% for three indexes and calving ease daughters and top 2% for scrotal.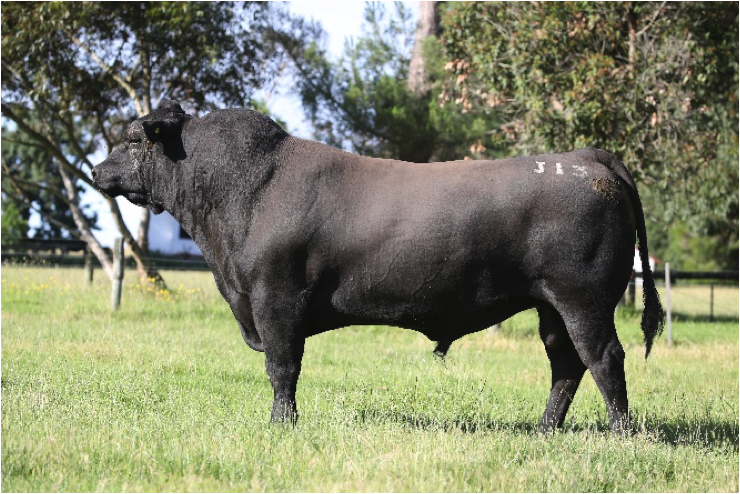 Weeran Principal, Alec Moore calls him the Joel Selwood of the Angus Breed!!! Weeran Joel's sons have sold very well in previous sales, with 18 sons selling in this year's Autumn Bull Sale to a top of $14,000 and averaging $8,055. He is a standout sire with so much to offer breeders. Semen is going out the door for $25 plus gst.
This Spring, Weeran will offer 10 eighteen month and 48 two year old bulls at auction on Tuesday 11th September at 1pm. We encourage everyone to come along to our field day on Wednesday 5th September, between 10am and 4pm to inspect the sale bulls.
Proven Sires in the Weeran program will have progeny in the sale including Millah Murrah Emperor K184, Weeran Joel, Musgrave Big Sky, Sydgen Black Pearl, Wattletop Kiwi and Weeran Hooper.
Alec Moore said "we have been breeding bulls for 35 years at an APR commercial level, and thrilled to be now producing sought after HBR Registered genetics that is capturing the interest of the Stud Industry across Australia". The Autumn Sale this year was a great example of the interest in the quality Weeran HBR and APR genetics.
Visit our website on www.weeranangus.com.au for all sale details. Follow us on Facebook and Instagram to see the latest photos of sale bulls leading up to sale day. If you would like a catalogue, please call 0429 787258. We look forward to welcoming you to Weeran Angus!