2013 Spring Bull Sale Results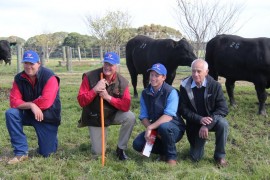 Weeran Angus held their annual spring bull sale on Wednesday 11th September, 2013.  37 bulls were sold at auction from an offering of 45, for an average of $3520, with three more selling straight after the sale.  This is a significant increase in the number of bulls sold from the previous spring sale which shows  growth in the spring market. Bulls were sold into New South Wales, South Australia and throughout Victoria.
Top price went to new client Arthur Welsh of Kennedy's Creek, who purchased two bulls for an average of $5875.  Top price was paid for Lot 29, Weeran Goal VHWG576 for $6,250.  An outstanding phenotype exhibiting excellent muscle expression and general structure.  Graded 7 for structure from Dick Whale's GTS grading system.  A pedigree which contains Willalooka Bushman B333 and Dunoon Xtra X85, a son of Dunoon Reagan.  A well performed pedigree.  Their second bull, lot 28, Weeran Gecko G171 which made $5,500, was an outstanding TC Franklin son, who boasted a growth curve of 2.9 for birth to 97 for final weight.  Another grade 7 bull by the GTS summary.
Second top price of $5750 was paid by long standing client, Murroa East for Lot 3, Weeran Gestapo G244.  Peter Delany purchased the pick of the Africa sons in the sale with long fed indexes of $111 and $134. Lot 36, Weeran Groover G131 had the top long fed index in the sale of $134.  Peter is an excellent client and a very good judge of cattle.
Volume buyers included repeat clients Nareen Station purchasing 6 bulls, Tooma Station 5 bulls and James Earle and Kerrsville both purchasing 4 bulls each.  Local agents, J M Ellis & Co and Kerr and Co, were both very active in the sale purchasing 16 and 7 bulls respectively.
It's been a tough year in agriculture, but pleasing to see and hear the good results achieved with Weeran genetics.  We are very grateful for the continued support from the industry, with many repeat clients along with new faces and buyers at the sale.  The bulls were fed for sale using hay, almond hulls and distillers syrup which has proven highly palatable and a good source of energy protein.  The high roughage component of this ration has been designed to develop rumin health and function, and gives us every confidence that these bulls will thrive and be highly fertile for their coming joining.  Rumin health and animal development is a crucial part of the Seedstock industry.
Guest auctioneer, Brian Leslie, conducted the auction, with Hamilton's MCKerr and Co settling the sale.