10th Spring Bull Sale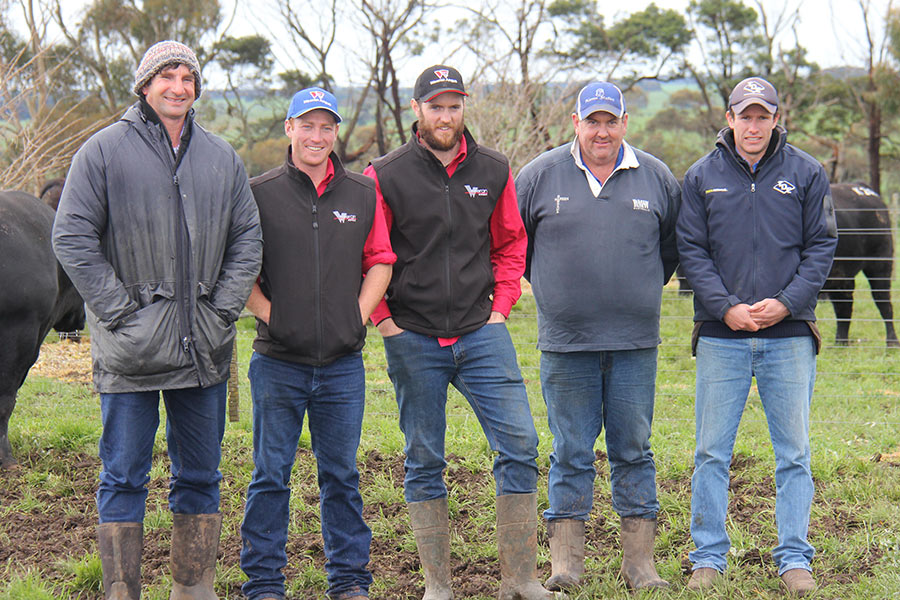 The crowd braved the elements yesterday to attend the 10th annual Spring Bull Sale at Weeran Angus. 52 bulls were offered with 44 selling at auction to a top of $12,000 twice and averaging $5955 and another 4 selling straight after the sale.
It was wonderful to see so many repeat clients, but also Weeran welcomed some new clients into their program. Last spring saw Weeran selling 33 bulls at auction, so a good lift in numbers this year.
Equal top price was paid by two long standing clients, Murroa East and Nareen Station. Murroa East purchased Lot 1, Weeran Kansas City VHWK323 who is by Barwidgee Jay W with an ideal growth curve of birth of 3.3 to final 600 day weight of 108. He weighed 888kgs, and scanned well for carcase and a top scoring structure grading by cattle consultant Dick Whale.
His Domestic Index of 115 puts him in the top 10% of the breed. Peter Delany of Murroa East, also purchased lot 48, VHWL26, the first 18 month old bull to be offered in the spring. A Werner Westward son who is an excellent all rounder.
Equal top price of $12,000 was also paid by Grant Little of Nareen Station. A longstanding Weeran client. Lot 4 Weeran Kepler VHWK102 weighed 906kgs. An Irelands Fletcher son with a top line growth curve.
He is in the top 5% of the breed for 600 day weight at 123, and with a birth weight ebv of 4.5 he will have excellent growth. Nareen also purchased lots 16 and 17, two sons by Rennylea Edmund E11.
Volume buyers included the Bourke family, Arthur Welsh, Tooma Station, The Hummocks, John Haydon and Armit Partners. Bulls will be joining some fantastic Angus herds in SA, southern NSW, and throughout Victoria.
Five sire lines sold above bull sale average. Number one sire, Irelands Fletcher with 4 sons selling for an average of $8,625. Second sire, Weeran Hopman H31, a Lawson Nadal son, with 3 sons selling for an average of $7,333.
The third sire being another Weeran home bred sire, Weeran Gerard G159, a Future Direction 4268 son, with 4 sons selling for an average of $6,875 and next Carabar Docklands with 4 sons selling for an average of $6,375 followed by Barwidgee Jay W selling 4 sons averaging $6,125.
The temperament of the bulls was also a feature, handling the pressure of a sale ring environment very well.  Brian Leslie was guest auctioneer, with Kerr and Co settling the sale.
14th September, 2016.