Weeran increase average by $980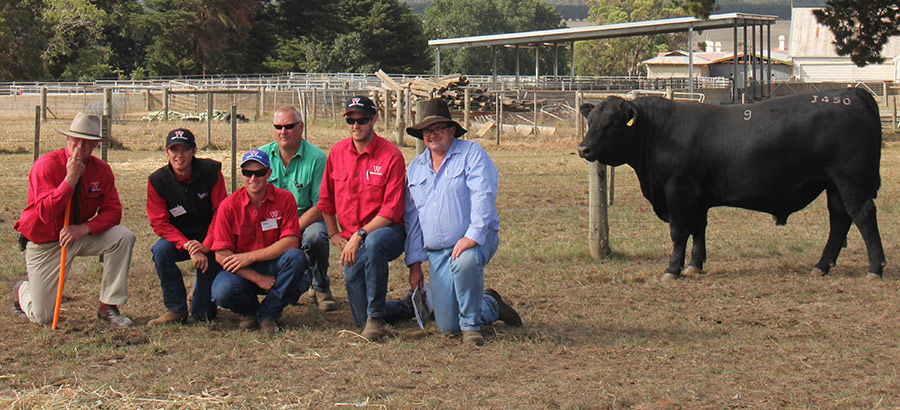 Weeran increase average by $980
The Moore family celebrated their 25th year of selling Angus bulls at auction last Wednesday 25th February. 51 bulls were sold to a top of $8,000 and an average of $4570. This is an increase of $980 from the 2014 autumn sale.
There was vigorous bidding on dominant sire lines with Karoo Equator having 4 sons who sold for an average of $6313. Karoo is a calving ease sire with a massive growth spread. Booroomooka Frankel had 10 sons in the sale averaging $4750.
We purchased a semen package of Frankel and with performance figures like his, you can make rapid growth and carcass gains in one big step. He has bred very well. Dunoon Everything only had a small number of bulls with three sons selling for an average of $5083. They are very exciting sires to have in the Weeran program with the upcoming genetics looking amazing!
Top price was paid by repeat buyer, Paul Lewis of Hawkesdale for the magnificent Weeran Jaden VHWJ450, who was lot 9 in the sale, and an outstanding Barwidgee Jay W son. He is a very exciting young sire, with the highest GTS grading of all bulls in the sale, and phenotypically outstanding.
With a birth weight of 4.6 to a 600 day weight of 112, he has plenty of grunt! He will be a young bull we will be keen to watch grow out. The Lewis family purchased 4 bulls at the Weeran sale.
Second top price of $7500 was paid by repeat buyers John and Caroline Hassing of SA for lot 12 Weeran Jai VHWJ46. By TC Franklin 619, he is a stud sire potential, with top 20% performance across all indexes and with a low birth weight of 2.6. He has so much to offer.
There were a number of volume buyers, all who were repeat clients. The consistency of the bulls was commented on from all who attended the sale, with a very loyal base of repeat clients returning to purchase. The presentation of the bulls was excellent, with them ready for work.
They certainly won't go into a paddock, and curl up under a tree. They are ready for action! They are run in very strict commercial conditions, and this is evident from all the feedback received from our clients.
Thank you to Brian Leslie for his expertise in the auction box, and to M C Kerr and Co for settling the sale.
28 February, 2015.