Weeran fast tracking genetics
Embryo Transfer programs have been around for years, and with impressive development with technology, we are seeing it as a very popular way of fast tracking genetics today.  The first successful Embryo Transfer took place in Cambridge, England in 1890 with rabbits. 
Walter Heape transferred two Angora fertilized ova from an Angora doe rabbit into the upper end of the fallopian tube of a Belgian Hare doe rabbit which had been fertilized three hours before by a Belgian Hare buck rabbit.  The Belgian Hare doe gave birth on 29 May 1890 to four offspring. Two which appeared to be of the Belgian Hare breed and two which appeared to be of the Angora breed.  The Angora young were true albinos, like their presumed parents. In 1949 sheep and goats followed, and in 1951, cattle and pigs. Embryo transfer is one of the most important reproductive biotechnologies where male and female genetic material can be utilized for the faster improvement of livestock.
ET was introduced into The Weeran Autumn Herd in 2014. The aim was to maximise the genetic potential of elite females in our herd and increase the number of HBR females of a modern genetic profile to allow us to have the depth of A grade females to produce herd sires within the Weeran program. Having purchased top females from the Witherswood, Coolana, Anvil and Wattletop dispersal sales, we have flushed them all several times and have progeny on the ground with more in the pipeline!  It's an exciting time at Weeran Angus!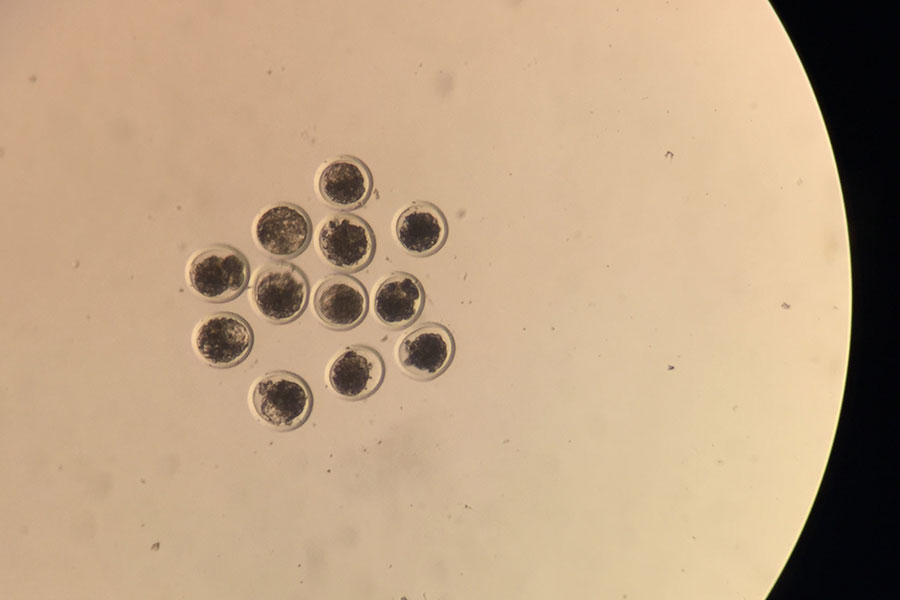 In addition, we are gaining genetic improvement from purchasing the best semen that is available that comes with using artificial insemination.  By multiplying the best female genetics and using semen from the best male genetics, you will produce calves in significant numbers from the best of the best!  As we have developed our ET program, donor cows are programmed and managed for embryo flushing, for both immediate transfer into recipient cows and for freezing and implantation at a later date, giving us greater flexibility for both our spring and autumn herds. Embryo Transfer allows us to produce on average six progeny per flush from our best cows, with some achieving 24 eggs!! It varies based on the cow's age, environmental factors and semen being used.
ET is a program that has to be fastidiously implemented to ensure you maximise the donor responses and recipients.  For beef operations, it can be a valuable addition to any breeding program, leading to greater efficiency and profitability.  Weeran works with Rob Pashen of AA Genetics who has delivered excellent results.
The forthcoming Weeran Spring Bull Sale will be held on Tuesday 10th September at 1pm.  All sale bulls will be on display at our field day on Wednesday 4th September from 9am to 4pm.  Bulls will also be available to inspect by appointment any time leading up to the sale.  Sire lines featured in this year's line-up are Ardcairnie F96, Wattletop Franklin G188, Weeran Hooper H20, Weeran Joel J13 and Musgrave Big Sky.  55 Bulls will go under the hammer.  For further information follow us on Facebook and Instagram or go to www.weeranangus.com.au.