Upper Murray Seeds/Weeran Pasture Field Day – 30th October, 2013.
BREEDING BETTER BEEF, GROWING GREAT GRASS
 – A FAMILY AFFAIR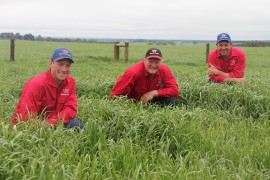 An upcoming beef and pasture Field Day will be a family affair at Weeran Angus, Byaduk,
south of Hamilton on Wednesday 30 October.
Alec Moore is putting his brother-in-law Stewart Sutherland's seed products to the test by
demonstrating varieties from Upper Murray Seeds on the Moore's home property
Weerangourt. The idea came from family gatherings where 'friendly discussions' arose
about how to put improved Angus genetics and Australian-bred proprietary seed varieties
to the test.
Together, Weeran Angus and Upper Murray Seeds, (headed up by Jo Moore's brother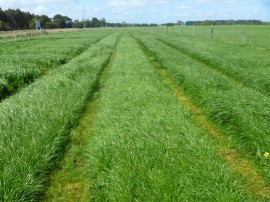 Stewart Sutherland) have developed a site which demonstrates perennial pastures
including fescue, annual and short term ryegrasses, and their suitability to the Hamilton
district. It gives farmers the opportunity to see over 50 different varieties of pasture in one
place.
"Seeing is believing," says Stewart Sutherland: "We find that demonstration days like this
give everyone a chance to get down and see the plants perform in a field situation. You
can guarantee family will give you honest feedback and we value their opinion of how our
pasture seed performs for them."
The family assessment works in both directions. Tooma Station, the Sutherland family
property, has been purchasing Weeran bulls for about 14 years and the herd genetics are
well established in their 900-cow herd at Tooma, NSW. When Alec and Jo Moore visit, they
are able to assess first hand how Weeran bulls are performing in a commercial situation,
and in country that is significantly different to the Hamilton area.
"We are extremely pleased with not only the physical structure and soundness of the herd
but also in their results in the market place. Ease of calving and low birth weights are very
important to our operation," said Stewart Sutherland.
The Upper Murray Seeds 30 October Field Day kicks off at the Good Shepherd College in
Hamilton where regional agronomist Chris Harkness has established a site to demonstrate
the persistence of perennial ryegrass over a 5-year period. Chris Harkness said: "An
added benefit of this site is the involvement of the kids from the College. Hopefully we're
educating the future agronomists of the district." In the quieter periods of the year, Chris
Harkness is involved in helping students in agriculture at both the Good Shepherd College
and Timboon P12.
As an added bonus, Mark Lourey from Feedworks will round out the day by explaining the
of the correct use and benefits of silage additives and how to make better silage.
Upper Murray Seeds inaugural Hamilton Field Day will only take a few hours out of your
day, but what you learn could make a significant impact on your bottomline.
Everyone is welcome to attend. The team from Upper Murray Seeds, together with Alec
and Jo Moore, invite those interested to join them for a BBQ lunch after inspecting the
Weeran Angus Demonstration Site.
When
: 10am, Wednesday 30 October 2013
Where
: Good Shepherd College, Mt Napier Road, Hamilton and then at Weeran Angus,
5395 Hamilton/Port Fairy Road, Byaduk.
RSVP
: Sunday 20 October, to Chris Harkness on 0428 406464 or
chris@uppermurrayseeds.com.au
RSVP is essential for catering purposes.
For more information go to