Solid Demand for Weeran Genetics
25 years after it's first bull sale, Weeran Angus has now positioned itself firmly as a provider of Seedstock for Angus Breeders. The average price of $5818 sees Weeran viewed by the market as a quality player in a competitive environment. "Achieving a depth of quality, reliability and commercial presence takes time" said Weeran Principal, Alec Moore, who also acknowledged it is gratifying to see increasing financial industry respect for the Weeran brand.
With good prices for a majority of its offering, and a near total clearance by days end, Alec Moore was very happy with the outcome. 40 bulls were offered, 33 sold at auction, with several more selling directly after the sale. "It is testament to the genetics that many return buyers purchased at Weeran, along with some new buyers being welcomed into the program." There were also a number of volume buyers, being W and L Armit of Swifts Creek, Nareen Station and Tooma Station. The Watson Family, The Hummocks, Gippsgraze and Jigsaw Farms were all very active in the sale taking home multiple purchases.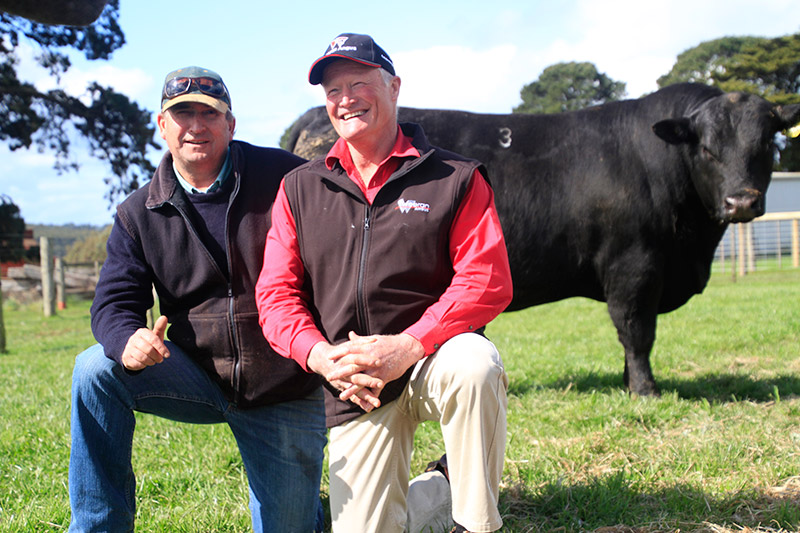 The top price of $10,000 went to new client, Ned Kelly of Caramut for Lot 3 Weeran Jabiru VHWJ268. A Booroomooka Frankel F510 son showing very good growth with a birth of 5.5 to 600 day of 109, 5.2 for EMA, and a highly graded bull from consultant, Dick Whale of IBMS.
He weighed like lead at 956kgs, and is a very easy doing type, with a magnificent temperament. "We have great respect for Ned's program, and we were thrilled to welcome Ned into the Weeran program", said Alec Moore.
Second top price of $9,500 was paid by return buyer Jigsaw Farms, Hamilton for Lot 22, Weeran Jay W Junior VHWJ563. Very well muscled and scanned extremely well, there is a lot of power in this son of Barwidgee Jay W. Weighing in at 898kg on sale day, he is very impressive.
Looking at the sire lines for the sale, Barwidgee Jay W had two bulls averaging $9250, Karoo Equator had four sons selling to an average of $6375, Connealy Consensus averaged $6,200 for 5 sons, and Booroomooka Frankel had six sons averaging $6166.
Karoo Equator is a calving ease sire with a massive growth spread, which we are very excited to be using in the Weeran program for these traits. Consensus has a birth of 5.5 to 600 day of 129! Excellent top end growth. Frankel gives excellent growth and carcase gains in one big step.
The sale was settled by Kerr and Co, with Brian Leslie, guest auctioneer.
Sale Day Gallery