Profit driving bulls sell well at Weeran
Weeran welcomed a large gallery of buyers to their annual Spring Bull Sale at Weerangourt, Byaduk.  55 eighteen month old and two year old bulls were offered, with 51 selling to a top of $8,000 and an average of $5795 and one selling immediately after the sale.  This average is an increase on the 2017 spring sale average by $775.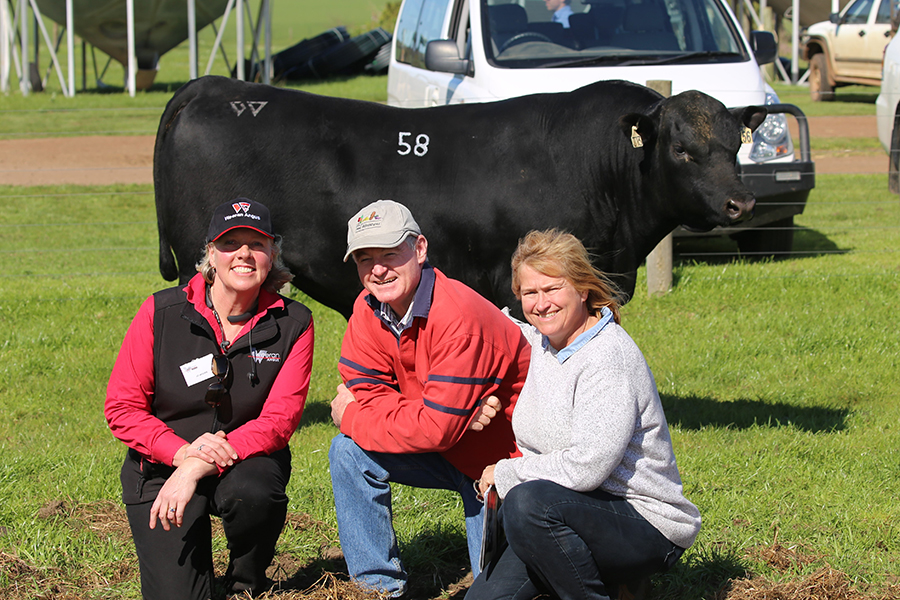 The number of new buyers who joined the Weeran program was a great thrill, with ten new buyers purchasing at the sale. The sale represented great value for outstanding performance bulls with depth of quality and evenness throughout the sale.  This was emphasised with the top price bull being the last bull to enter the ring.
Our repeat clients return year after year, with one buyer having purchased Weeran Angus genetics since 1988.  Repeat volume buyers included The Hummocks, Tooma Station, Nareen and The Savin Family.
It was very pleasing to hear the comments throughout the day about the quality, presentation, calving ease and good temperament, with the figures behind them! This is something that the Weeran Team have been working on with great success.
Weeran Joel had 17 sons selling for an average of $6,000 and Wattletop Kiwi had the next highest number of progeny with 12 sons selling for an average for $5,800.  41 two year old bulls averaged $5,646 and ten 18 month old bulls averaged $6,400.
Top price of $8,000 was paid by repeat buyers Malabar Farm of Gippsland, who purchased the final bull in the sale, Lot 58 VHWM256 Weeran Maestro.  A son of Weeran Joel with all indexes in the top 10% or better, and calving ease being a highlight at top 4% for the breed.  An extremely sound bull who highlighted both calving ease ebv's and short gestation.  Malabar Farm also took home Lots 5 and 20.
Second top price of $7,500 was paid four times by The Lewis family, Nareen Station and The Hummocks.  Two eighteen month old bulls attracted this price and two of the older bulls.  These bulls were by Weeran Hooper, Wattletop Kiwi and Barwidgee Jay W.
Looking forward in the Weeran program, we are very excited with the genetics you will see coming through, said Alec Moore.
Brian Leslie was guest auctioneer, with Kerr and Co settling the sale.
11th September, 2018.