Weeran 2021 Autumn Bull Sale
The Moore family and the Weeran Angus Team were delighted with their record sale this week. One of the biggest crowds we have seen attending from Victoria, SA and NSW created a tremendous atmosphere from Lot 1 right through to the end, with 75 bulls sold at auction with a top of $26,000 and a record average of $9,627.
The top price of $26,000 was paid for Lot 2, Weeran Qadar VHWQ2, by longstanding client, The Lewis family from Hawkesdale who have been purchasing Weeran Angus genetics for the last 13 years. Q2 had attracted a lot of interest at the Beef Week field day and really was a very special package! A Hallmark descendant by Bellaspur Hallmark M83 with exceptional structure and type. He is just an absolute standout with a lot of presence about him. Used as a yearling in the Weeran program over stud heifers with a beautiful temperament and grading a very high 7 by Dick Whale on his GTS grading system. With a birthweight ebv of +4.5 to a 600 day growth of +134, placing him in the top 12% for the breed.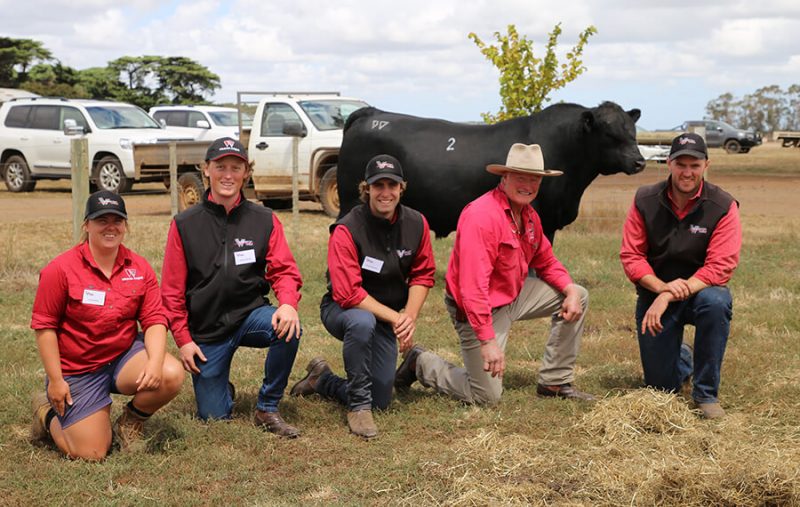 Second top price of $20,000 was paid by longstanding client Nareen Station for Lot 4 Weeran Quest VHWQ6 by Ascot Hallmark. A super long bodied calving ease sire also used in the Weeran program. Nareen took home five bulls and have been purchasing bulls from Weeran Angus for 23 years.
The 21 autumn drop two year old bulls averaged $11,905 and the 56 eighteen month old bulls averaged $8625.
The most highly sought after reference sires on the day were Ascot Hallmark, Lawsons Momentous and home bred sire Weeran Mercury M92. The Ascot Hallmark sons have so much power and he consistently breeds incredibly long, easy fleshing, well muscled progeny. The four sons sold averaged $12,250. There is a buzz in the industry with the Lawsons Momentous sons and this was certainly evident at the Weeran Sale. He has excellent structure with an outstanding carcase profile. 13 Lawsons Momentous sons were offered and all sold for an average of $11,923. Weeran Mercury M92 was purchased as an embryo from Millah Murrah. He is large framed, high growth bull with excellent temperament. Four sons sold for an average of $11,750.
Volume buyers on the day were Nareen Station, and Dick Whale representing Burnfoot Angus, both purchasing 5 bulls. Many repeat buyers purchased along with 13 new buyers joining the Weeran Program.
Elite Livestock Auctions ran a live simulcast which was viewed by 97 people along with 35 registered buyers. The Weeran team videoed and photographed all the bulls, which gave everybody the opportunity to have a good look at the bulls prior to sale day. The online platform is here to stay and a wonderful addition to sales.
Brian Leslie was guest auctioneer with Kerr and Co Livestock running the sale. It was an outstanding day!