Exceptional Value at Weeran
Weeran Angus held their first video sale on Tuesday, running a live stream simulcast with Elite Livestock Auctions, and running the sale from their woolshed with a full crowd from three states attending. The last three sales have been under Covid restrictions, with online selling providing buyers the opportunity to purchase when unable to attend. The online component has grown over the last few sales, and with the effort put into videos of each bull, it was a natural progression to move to a video sale with a live stream.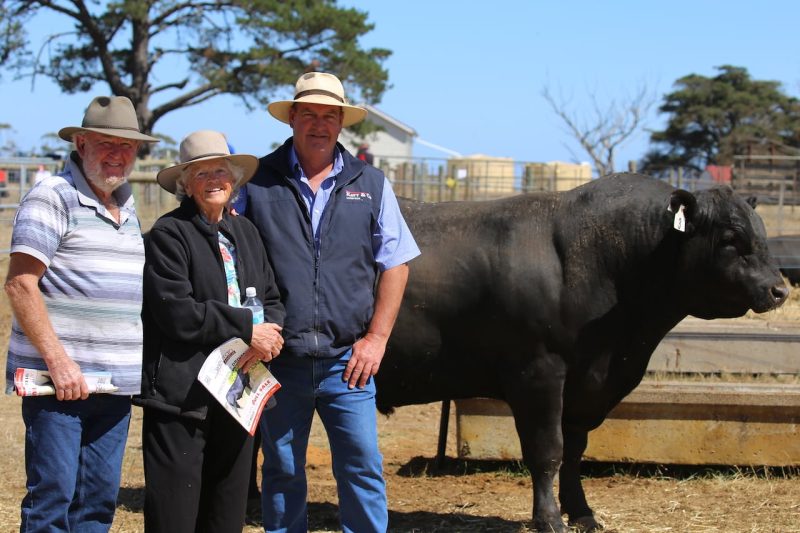 We offered 90 leading performance bulls, being the most bulls we have offered in one sale, said Weeran Principal, Alec Moore. 85 bulls sold to a new record high of $32,000 with an average of $9177, which was exceptional value for leading genetics.
Top price was paid for Lot 3, Weeran Rolls Royce VHWR10, purchased by local repeat clients, David and Margaret Pevitt, Warrong, had been used in the Weeran program, and already has runs on the board. A magnificent Herdbook son of Sydgen Enhance out of our donor cow, Witherswood Jedda M0054. He has a fantastic growth curve with birthweight being 4.8 to final weight of 152! All growth ebv's are in the top 8% for the breed, with excellent milk, super feed efficient, with carcase weight in the top 9%. A high GTS grade of 7 from Dick Whale, and weighing in at 932kgs, along with a beautiful temperament. The Pevitt family have been buying from Weeran for several years.
The two second top price bulls at $22,000 were purchased by repeat clients Carcoola Pastoral, Lucindale for Lot 4 and Tooma Station for Lot 12. Lot 4 is another Sydgen Enhance son, out of our Donor cow Witherswood Jedda L202. Another young sire used in the Weeran program last season, backing up 70 mature age cows in our AI program. He has awesome growth and excellent fertility with fabulous temperament. Lot 12, out of another super donor cow, Anvil Wilcoola L32 and by Lawsons Blue Bagger, has a great data set, with an impressive ebv graph. Calving ease, growth, milk, fertility and carcase weight, is ticking a lot of boxes.
Volume buyers for the day included repeat buyers Dick Whale of IBMS, Crower Partners, Lucindale, Nareen Station, the Armit Family at Swifts Creek, L Dullard of Irrewarra and new client J and P Kenny, Colac.
Comments on the bulls were very positive. Buyers appreciated the good temperament, and were pleased to see them well presented, and not over done. They are fit and ready to go straight to work!
We are excited to see our bulls going into leading herds around the country. We appreciate the loyal support from our clients and thrilled to have several new clients joining our program.
Guest Auctioneer Brian Leslie ran a great video sale. Kerr and Co settled the sale.
23rd February 2022.