Weeran Angus 2022 Spring Bull Sale Results
Weeran Angus were very happy with the buoyant sale held last month for their 16th Spring Bull sale. 71 bulls were offered, with 66 selling at auction to a top of $28,000 and averaging $11,606. With new buyers joining the program and a very large number of loyal repeat buyers, it is testament to the direction Weeran Angus and their team are heading.

The top priced bull at the sale was Lot 4, Weeran Ramsay VHWR292, which sold for $28,000 to Lachie McKenzie, Bruanlea, Tarranlea bought in a partnership with Harrold Pastoral Company, Penola, and Merrin Ag, Caramut. Principal Alec Moore said "Ramsay just oozes power"! Weeran Ramsay VHWR292 has a birth weight ebv of +5.1, and growth ebv's of +64 for 200-day weight, +104 for 400-day weight, and +131 for 600-day weight and EMA of 6.4. He is a heavy son of Baldridge Beast Mode, who was heavily muscled with extreme indexing, all in the top six per cent for the breed, and out of Coolana Eldorene Erica K178. Excellent structure and without a doubt a magnificent lead bull from Weeran Angus!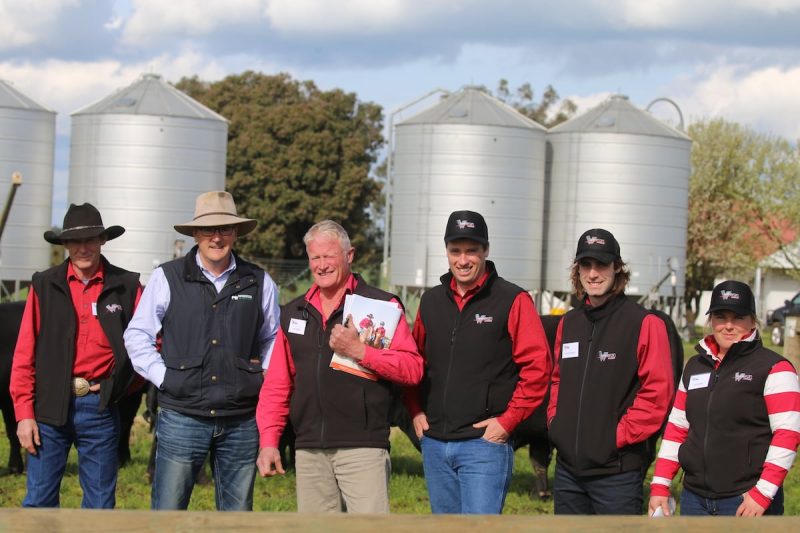 Stud principal Alec Moore said he was pleased that buyers were receptive to his stud "pushing the envelope" with genetics. "We try to keep upping those numbers of cattle and making sure that people recognise that we're in elite genetics, but are also offering affordable cattle," he said. We are offering larger numbers, but ensuring the performance is there, and our buyers go away feeling they have good value genetics!
Kerr & Co stock agent Brady Hicks said the quality of bulls at the sale were the best lineup he's seen at Weeran Angus. Most buyers were physically present at the sale, with a handful of cattle going to online buyers based in Gippsland and Hamilton through Elite Livestock Auctions. The presence of online is an exciting new step with 105 online viewers of the sale from five states of Australia!
Volume buyers included Posie Mann, Hawkesdale; Tooma Station, Tooma; Murndal Pastoral, Tahara and the Armit Family, Swifts Creek. Guest auctioneer was Brian Leslie with Kerr and co settling the sale.
It is exciting times at Byaduk for the stud, and they already can't wait to showcase their line up of top performance bulls for their forthcoming 2023 Autumn Sale.
September 2022