100 PER CENT CLEARANCE AT WEERAN ANGUS
Buyers were out in force as they braved the heat at Weeran Angus's 27th Annual on property Bull Sale this week. All 67 bulls were sold, achieving a record top price of $15,000 and an average of $6,947.
The stands were full with over 60 registered buyers from South Australia and Victoria bidding up on the quality bulls on offer. Featuring 2 year old and 18 month old bulls, with the complete package of phenotype and data, complemented with excellent temperament.
Top price of $15,000 was Lot 4 Weeran Longlost Friend VHWL86 purchased by the Ryan Family. A 22 month old son of Weeran Hopman VHWH31, out of a TeMania Africa cow, weighing in at 864 kgs. His EBV's included 6.5 for birth, 51 for 200 day, 92 for 400, and 119 for 600 day weight, with an EMA of 8.8 and IMF of 1.7. Peter Ryan said "he was an all-round good bull, with size and shape with top figures". L86 has been used in the Weeran program, and the four Hopman sons in the sale averaged $8,000.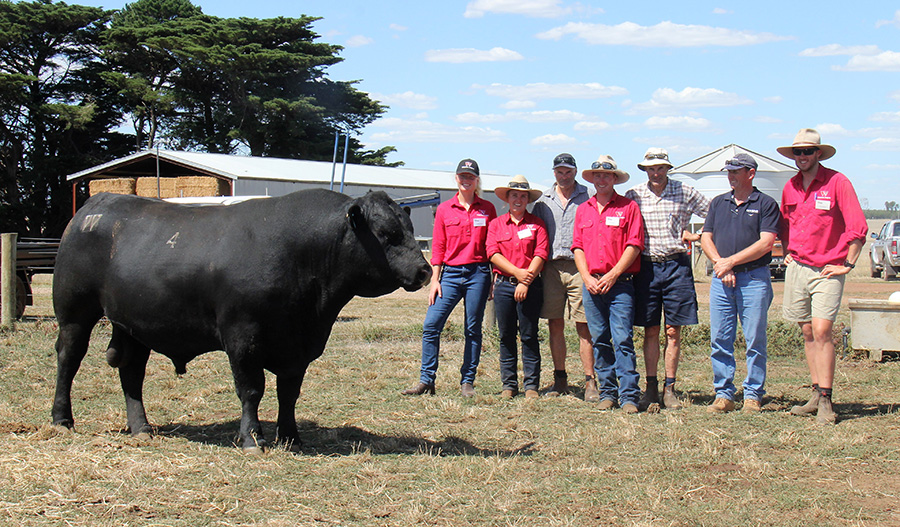 Second top price of $11,000 was paid three times for Lot 14 VHWL42 and Lot 19 VHWL288 both purchased by Paul Lewis, and Lot 18 VHWL39 purchased by A & C Tonissen, both repeat buyers to Weeran Angus. Lot 14 is a Rennylea Edmund son with excellent IMF and indexing, with a calving ease in the top 5% of the breed. Lot 19 is a TeMania 11 465 son with outstanding growth and carcase in the top 1% of the breed. Lot 14 is also a Rennylea Edmund son and Grandson of Ayrvale Bartel with calving ease in the top 5% of the breed.
The leading reference sires in the sale were Rennylea Edmund with three sons averaging $10,333, followed by Werner Westward with 6 sons averaging $9,417. Ardrossan Fairfax had 2 sons averaging $8,500, and these were followed by home bred sires, Weeran Hooper H20 and Weeran Hopman H31, both with 4 sons each averaging $8,000. Also above average were both Barwidgee Jay W and New Zealand sire TeMania 465 11.
Alec Moore said "he was thrilled with the total clearance of the bulls". "I was pleased with our loyal client support, which reflects how our product performs in the marketplace". The many new buyers is a great endorsement to the Weeran program! Our program is going from strength to strength and at Weeran we are stepping it up!
The sale was settled by Kerr and Co, and guest auctioneer Brian Leslie.
1st March 2017.